Bathroom Remodeling | Commercial | Residential
Imagine you're a homeowner with an out-of-date bathroom or a business owner with a bathroom that hasn't been remodeled in many years. Your countertops are made of stained, scratched cultured marble. Your toilets are inefficient, and you don't have the appropriate storage space or counter space for your needs. Your bathroom floors have stained grout. The caulk around fixtures needs to be replaced. If you're a homeowner, you may even have a bathroom with pink wall tiles. Your bathroom looks its age, and it's difficult to clean. It's the wrong color for the current decade, and it might even be devaluing your property. Were you to sell sometime soon, buyers might see your bathroom and cringe.
Bathroom Remodeling | Residential | Residential Remodeling
Custom and semi-custom bathroom vanities range in cost from hundreds to thousands of dollars. These units typically include a separate countertop and faucet. Putting the separate pieces together in one integrated whole is relatively time consuming and cost-inefficient. While some homeowners with very particular bathroom vanity needs may choose to purchase customized bathroom vanities made from separate parts, there are many ways to save money on this process. Read on to find out more information about how to get the most out of your bathroom vanity and cabinetry budget.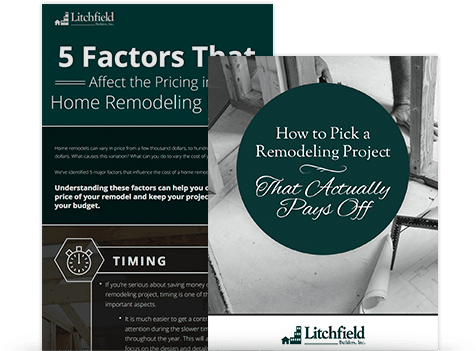 Home Remodeling Toolkit
See how you can get the best return on investment from your next home remodel by knowing exactly what to expect and how to prepare.
Bathroom Remodeling | Residential
Small bathrooms can make big problems for homeowners. These 5 remodel tips will help you add space, or the appearance of space, to your small Connecticut bathroom.
Bathroom Remodeling | Residential
Knowing approximately how much your Connecticut bathroom remodel will cost will help you establish a budget so you can keep your project manageable and realistic. It will also prevent you from running out of money before everything is complete. Follow these tips to help you determine the cost of your bathroom remodel.
Bathroom Remodeling | Custom Millwork | Residential
Are you remodeling your bathroom this summer? If so, are you up to date with the hottest vanity Millwork design trends of the year? These vanity design choices will make your custom Millwork vanity the natural centerpiece of your newly remodeled bathroom.
Bathroom Remodeling | Commercial
Commercial bathroom remodeling can improve your property value while also improving the experience of living in your home--if it's done correctly. If you're thinking about taking on a bathroom remodel in the next few months, avoid making these common mistakes so you can enjoy your bathroom remodel as much as possible.
Bathroom Remodeling | Residential
The following article is an excerpt from HGTV by Kimberly Pfaff Tchang. This article will help you get the most out of your bathroom vanity with these clever storage ideas.
Bathroom Remodeling | Commercial | Commercial Remodeling
Business remodeling is the best way that you can keep your commercial property looking and performing at its best. Not sure where to start? Nothing gives away the age of your building like a rundown or out-of-date commercial bathroom. If the restrooms in your facility are more than a few decades old, it may be time for an upgrade.
Bathroom Remodeling | Residential | Residential Remodeling
Radiantly heated floors are not a new idea--in fact, they are a very old idea. The Roman method of heating the home (or heating the bath house) via a heat source under the floor was known as hypocaust. Today, the majority of residences and businesses are heated through hot air ducts or by radiators, but the idea of radiantly heated floors is taking off in some locations because of its many benefits.
Bathroom Remodeling | Residential | Residential Remodeling
A well-executed bathroom remodel can add value to your property while transforming one of the most highly used spaces in your home. It is only logical that a poorly executed bathroom remodel could reduce the value of your home and cost you thousands of extra dollars in repair. Beware of these common mistakes as you embark on your personal bathroom remodeling project.