Bathroom Remodeling | Commercial
At home, touchless faucets add an element of convenience to the bathroom and kitchen. In commercial settings, they are important for maintaining appropriate levels of sanitation, cleanliness, and hygiene. Touchless faucets can even be a tool in sustainability and green commercial construction and are a regular fixture in commercial construction renovations.

Bathroom Remodeling | Residential | Residential Remodeling
Bathrooms are naturally small spaces with little room for storage. In many bathrooms, the drawers and cabinets under the sink are the only place where clutter like shampoo bottles, soap, toothpaste and more can fit. Homeowners looking for more storage often turn to cabinets that go up, filling the space near the mirrors.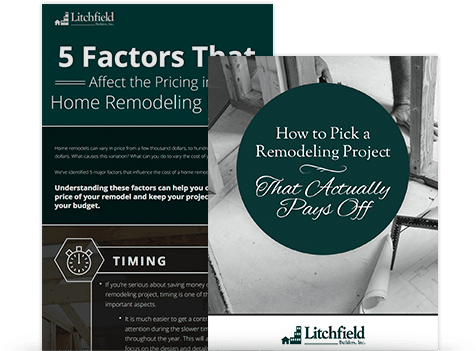 Home Remodeling Toolkit
See how you can get the best return on investment from your next home remodel by knowing exactly what to expect and how to prepare.

Bathroom Remodeling | Residential | Residential Remodeling
The vanity is like the centerpiece of the bathroom, playing a central role in important tasks like tooth brushing and hand washing. In most bathrooms, the vanity is also the biggest and most ornate piece of furniture. Positioned just beneath the mirror, the vanity is what most people see first when they enter the room.

Bathroom Remodeling | Commercial | Commercial Remodeling
A well-executed commercial bathroom remodels can improve your property's value and benefit your business in many ways. When the remodel is finished, your bathroom(s) should be more attractive, efficient and functional. Staff and customers alike benefit when businesses remodel their bathrooms. All remodels have potential pitfalls.

Bathroom Remodeling | Commercial | Industry Knowledge
Commercial bathrooms don't change often. Most commercial property owners only remodel their bathrooms every few decades to keep up with the latest technologies and modern conveniences.

Bathroom Remodeling | Residential | Residential Remodeling
The vanity acts as the centerpiece of the bathroom. An out of date bathroom vanity can lead to problems with clutter, storage and overall functionality. If your vanity lacks proper storage space, it becomes difficult to find the things you need when you need them. If the vanity is the wrong height, using the sink can be challenging.

Bathroom Remodeling | Commercial | Residential
Imagine you're a homeowner with an out-of-date bathroom or a business owner with a bathroom that hasn't been remodeled in many years. Your countertops are made of stained, scratched cultured marble. Your toilets are inefficient, and you don't have the appropriate storage space or counter space for your needs. Your bathroom floors have stained grout. The caulk around fixtures needs to be replaced. If you're a homeowner, you may even have a bathroom with pink wall tiles. Your bathroom looks its age, and it's difficult to clean. It's the wrong color for the current decade, and it might even be devaluing your property. Were you to sell sometime soon, buyers might see your bathroom and cringe.

Bathroom Remodeling | Residential | Residential Remodeling
Custom and semi-custom bathroom vanities range in cost from hundreds to thousands of dollars. These units typically include a separate countertop and faucet. Putting the separate pieces together in one integrated whole is relatively time consuming and cost-inefficient. While some homeowners with very particular bathroom vanity needs may choose to purchase customized bathroom vanities made from separate parts, there are many ways to save money on this process. Read on to find out more information about how to get the most out of your bathroom vanity and cabinetry budget.

Bathroom Remodeling | Residential
Small bathrooms can make big problems for homeowners. These 5 remodel tips will help you add space, or the appearance of space, to your small Connecticut bathroom.

Bathroom Remodeling | Residential
Knowing approximately how much your Connecticut bathroom remodel will cost will help you establish a budget so you can keep your project manageable and realistic. It will also prevent you from running out of money before everything is complete. Follow these tips to help you determine the cost of your bathroom remodel.