Kitchen Remodeling | Residential Remodeling
There are many steps that must fall into place before a bathroom remodel can take place - including the making of the budget. Bathroom remodels typically involve many tasks and steps, which can add up to a significant cost. It's helpful to know what you might end up paying for your bathroom remodel. Having this information can help you decide whether a bathroom remodel is the right home improvement for your Connecticut home at this time. In this article, we've named typical costs for remodeling a bathroom in Connecticut. However, the costs incurred for your project will depend on the scope of the project, type of materials you're planning to use and more. You can get a more accurate bid for your home improvement by talking to a contractor. If the numbers in this article below sound realistic to you, talk to a contractor to get a bid and find out what you can expect to spend on your upcoming remodel.
Kitchen Remodeling | Residential Remodeling
Choosing the right type of flooring for your kitchen remodel can be a challenge. There are many options available - and all of them have good qualities. The right choice for you depends on a number of factors including your budget, your aesthetic preferences, the style of your kitchen and how much wear and tear you expect your flooring to withstand. Considering your goals for your kitchen can help you make these choices. If you're planning a kitchen remodel sometime in the near future, you'll find the process goes faster and easier if you've made some decisions ahead of time, so this is a good time to start thinking about your upcoming remodel.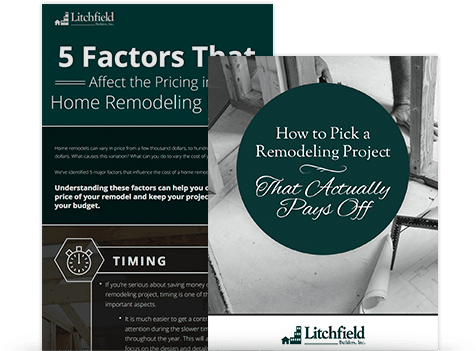 Home Remodeling Toolkit
See how you can get the best return on investment from your next home remodel by knowing exactly what to expect and how to prepare.
Kitchen Remodeling | Residential
Years ago, the top-mount sink, also called drop-in or self-rimming sink, was the most common sink type found in residential kitchens. Drop-ins were popular because they were practical, relatively inexpensive to purchase and easy to install - even if for a DIYer. Tastes have changed in recent years. Homeowners rarely purchase drop-in models for their kitchen renovations. In this article, we'll talk about the most popular sinks being installed in kitchens around Connecticut. It can be tough to pick the right one - especially if you're a new homeowner with little experience choosing new kitchen features. We'll go over their pros, cons and costs, so you can decide which type of sink is right for your home.
Kitchen Remodeling | Industry Knowledge
Of all the surfaces in the kitchen, countertops are the most beautiful. They come in many patterns and colors and are made from a variety of materials. The right countertops should be beautiful but functional, timeless but stylish, cost-effective, and high-value. It's no wonder some homeowners spend days or weeks agonizing over the right countertop material for their kitchen remodel.
Kitchen Remodeling | Residential
Of all the places you can think of remodeling, the kitchen happens to be one of the most expensive rooms. Not only do you have to focus on fixtures that will ensure a perfect workflow, but you also have to factor in the right appliances that will blend in with your design. These expenses will quickly accumulate if you finish the kitchen remodeling only to find out you need to redo the process. For instance, it can be frustrating to choose your kitchen appliances once you finish remodeling, as this means you probably did not factor in size and location.
Kitchen Remodeling | Residential
Kitchen islands have been a popular kitchen decoration for so many years that in some homes, islands have started to show their age. Kitchen islands are still a great feature that make cooking and entertaining easier, and even old ones have a lot of value to offer. What most older kitchen islands need is an upgrade, like a new countertop, new sink, or refinished cabinets. What's right for your kitchen cabinets depends a lot on your personal tastes and what about your kitchen cabinet bothers you the most.
Commercial | Commercial Remodeling | Kitchen Remodeling
What is the difference between the design of a commercial kitchen and your own personal kitchen? With a commercial kitchen, the design is about functionality and size to accommodate more foot traffic. A home kitchen is more about style and how well it blends with the house. Furthermore, a commercial kitchen has to be much more sanitary and cost-effective than a personal kitchen.
Kitchen Remodeling | Residential
If you've read the Litchfield Builders blog before, you've probably heard about our kitchen bump-outs. A bump-out is an easy way to add extra space to your kitchen. You can do a lot with this extra space too! Unlike other additions that would require your contractor to alter the foundation of your home, a kitchen bump-out can be built on your existing foundation.
Kitchen Remodeling | Residential | Residential Remodeling
Remodeling a kitchen takes a lot of hard work, decision making, and planning. Not only do you have to figure out a layout with your available space, but you also have to decide on every element that makes up your new kitchen. From new cabinets, a kitchen island, and appliances, there's no lack of important choices that can make or break your remodel plans.
Kitchen Remodeling | Residential | Residential Remodeling
The kitchen is one of the most important areas of your home. This explains why kitchens through the ages continue to change and evolve. From the earliest signs of cooking found in the caves of South Africa to the modern smart kitchens of today, the kitchen has come a long way. And why wouldn't it? People continue to find better and newer ways to improve one of humanity's oldest traditions.