Commercial | Commercial Remodeling
Is your commercial building too small? Not so small that you're forced to move, but just small enough to be inconvenient? If so, an addition may be just what you need. In fact, a well-planned addition can improve functionality around your workplace, improve the reputation of your company, save your business money and increase profits.
Kitchen Remodeling | Residential
If you've read the Litchfield Builders blog before, you've probably heard about our kitchen bump-outs. A bump-out is an easy way to add extra space to your kitchen. You can do a lot with this extra space too! Unlike other additions that would require your contractor to alter the foundation of your home, a kitchen bump-out can be built on your existing foundation.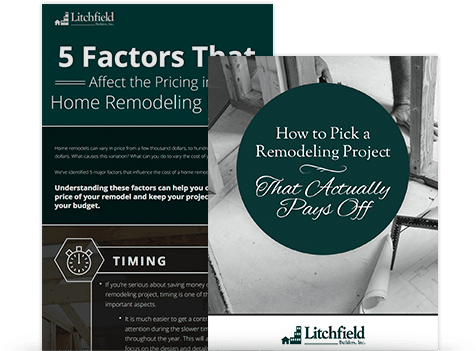 Home Remodeling Toolkit
See how you can get the best return on investment from your next home remodel by knowing exactly what to expect and how to prepare.
News & Events | Industry Knowledge
COVID-19 has forced many businesses to change their everyday practices to keep workers and customers safe. At Litchfield Builders, we've done our part to prevent the spread of coronavirus while maintaining construction operations in Connecticut. We continue to serve the homeowners and business owners of our state with remodeling, construction, and renovation needs.
Commercial | Commercial Remodeling
Education facilities need regular care and maintenance to keep up enrollment and fulfill their mission. Renovations and remodels are an investment in the future, preparing your facilities for students in decades to come.
Commercial | Residential | Industry Knowledge
Many people use the terms "renovation" and "remodel" interchangeably as if they were the same type of project. However, there are subtle differences between these two terms.
Bathroom Remodeling | Residential | Residential Remodeling
Bathrooms are naturally small spaces with little room for storage. In many bathrooms, the drawers and cabinets under the sink are the only place where clutter like shampoo bottles, soap, toothpaste and more can fit. Homeowners looking for more storage often turn to cabinets that go up, filling the space near the mirrors.
Bathroom Remodeling | Residential | Residential Remodeling
The vanity is like the centerpiece of the bathroom, playing a central role in important tasks like tooth brushing and hand washing. In most bathrooms, the vanity is also the biggest and most ornate piece of furniture. Positioned just beneath the mirror, the vanity is what most people see first when they enter the room.
Residential | Residential Remodeling
You know that room in your house that you put things into just to get them out of the way? You're not using that space to its maximum potential, and it makes you feel a little guilty. Every time you look in that room, you think to yourself: someday I'm going to do something with this room.
Residential | Residential Remodeling
Converted garages can make very comfortable, pleasant living spaces, and if the work is done properly, a garage conversion can also increase your property's value. Whether you're seeking an affordable apartment for a senior relative or a place for your older child to learn independent living, a garage conversion is an excellent home remodel.
Commercial | Residential | Industry Knowledge
Renovations can be disruptive to everyday routines, whether they're being done to a commercial building or a home. Maintaining a clean workspace while work is underway can reduce the renovation's impact so life can continue more normally.