Commercial | General Contractors | Industry Knowledge
Remodeling can be costly. From labor to materials, a typical commercial remodel can cost tens of thousands of dollars. Although the end results are worthwhile, some commercial property owners stumble on the price tag. Knowing of commercial contractor fees, those on a tight budget may even try to save money by hiring their own workers to do portions of the job, which can have unintended consequences.
Residential | Industry Knowledge
Home decorating is a challenge for many homeowners. Unless you're a trained professional interior decorator, it's difficult to know what works and what doesn't. We're posting this list to prevent you from making some of the biggest home decorating mistakes.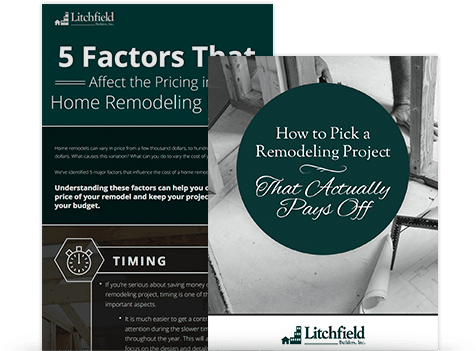 Home Remodeling Toolkit
See how you can get the best return on investment from your next home remodel by knowing exactly what to expect and how to prepare.
Attracting the best talent to your business can be a challenge. In some competitive markets, it's not enough to simply offer the highest salaries. Many business owners turn to nontraditional perks like new facilities to attract new employees. If you're one such business owner, the following upgrades can help you attract new talent to your business and help you keep the talent you already have.
Residential | Industry Knowledge
Do you spend half the day dreaming about taking on your next home remodeling project? Are you looking for sources of inspiration? Then these home remodeling websites are for you!
Commercial | Residential | Residential Remodeling | Industry Knowledge
When you are considering business or home remodeling in Connecticut, you may find yourself confused on what you really need: a remodel or a renovation. In the construction industry these terms are often used interchangeably, but there are a few major differences you need to keep in mind when you start planning your project. Let us explain here in under 200 words!
Residential | Residential Remodeling | Industry Knowledge
Now more than ever, homeowners have access to seemingly unlimited knowledge, including a range of online tutorials that show a relatively untrained audience how to do everything from change a faucet to conduct a bathroom remodel. Some of these DIY home remodeling projects, like repainting a room, changing a fixture or re-grouting a shower, can be fun and empowering. Yet not all home improvement activities are best conducted by homeowners. Major home remodeling projects should be completed by a professional contractor.
General Contractors | Residential | Residential Remodeling | Industry Knowledge
Home remodeling is a huge undertaking that requires a significant investment of time and money. Whether you're renovating your home to sell or you're just building the dream home you always wanted, residential construction can be a lengthy, involved process that requires a lot of preparation. If you're hoping to take on this type of project, now is the time to get started.
Commercial | General Contractors | Residential | Residential Remodeling | Industry Knowledge
Hiring a general contractor in Connecticut can be intimidating, and this is especially true if you're unfamiliar with their industry language or lingo. A great deal of the typical contractor jargon relates to the process of setting the price for the job. If you can speak with authority about the cost of the job, the process for hiring a contractor becomes less intimidating. Here are a few key terms to help get you through the remodeling process.
Commercial | Residential Remodeling | Seasonal | Industry Knowledge
As heavy snow continues to plague much of the country, both residential and commercial property owners are becoming concerned with the threat of winter roof collapses. This may remind you and your neighbors of the winter of 2011.
Commercial | Residential | Residential Remodeling | Industry Knowledge
The past few years have shown us that Mother Nature may strike at any time. Natural disasters like tornadoes, hurricanes, and blizzards have affected many homes in Connecticut as well as the rest of New England. Once your loved ones are safe, making sure that your home or business is restored is your next concern. Unfortunately, many of us are not prepared to deal with insurance restoration and everything involved with remodeling after a natural disaster. Here are a few tips to help you through this difficult time.