Kitchen Remodeling | Industry Knowledge
Of all the surfaces in the kitchen, countertops are the most beautiful. They come in many patterns and colors and are made from a variety of materials. The right countertops should be beautiful but functional, timeless but stylish, cost-effective, and high-value. It's no wonder some homeowners spend days or weeks agonizing over the right countertop material for their kitchen remodel.
If you've been a general contractor for a while, you know that insurance claim clients are different from other clients. You know they face different challenges, operate on a separate timeline, and their home repair is not theirs to manage on their own. Though they may be partnering with their insurance company, homeowners who are victims of recent disasters often feel lost in the home repair process.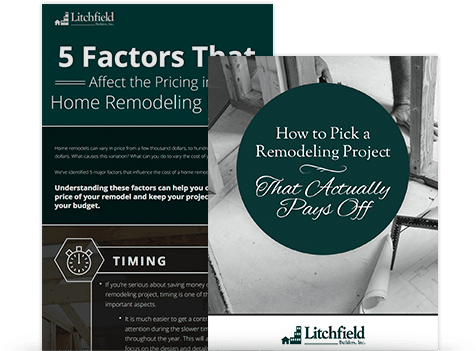 Home Remodeling Toolkit
See how you can get the best return on investment from your next home remodel by knowing exactly what to expect and how to prepare.
Residential | Industry Knowledge
The power of plants, water, and being surrounded by the natural elements that make up our Earth is scientifically proven to restore our sense of balance and recharge our natural rhythm.
News & Events | Industry Knowledge
COVID-19 has forced many businesses to change their everyday practices to keep workers and customers safe. At Litchfield Builders, we've done our part to prevent the spread of coronavirus while maintaining construction operations in Connecticut. We continue to serve the homeowners and business owners of our state with remodeling, construction, and renovation needs.
Commercial | Residential | Industry Knowledge
Many people use the terms "renovation" and "remodel" interchangeably as if they were the same type of project. However, there are subtle differences between these two terms.
Residential | Industry Knowledge
Who knew that there was so much that you need to know about the foundation of your home? Isn't it just a slab of concrete and a few different screws under your home or business?
Commercial | Residential | Industry Knowledge
Renovations can be disruptive to everyday routines, whether they're being done to a commercial building or a home. Maintaining a clean workspace while work is underway can reduce the renovation's impact so life can continue more normally.
General Contractors | Industry Knowledge
Most construction contracts are known as fixed-price contracts, which means the contractor and the property owner have agreed on a fixed price for the work. The price only changes when change orders are signed by both parties. Although fixed-price contracts are the most common type of construction contracts, these agreements aren't appropriate for every type of construction job. The alternative is a time and materials contract.
Residential | Industry Knowledge
When you are getting your home ready to sell, there is a fine balance between making improvements to show it in its best light for potential buyers, and watching your budget to be sure you will get an optimal return on your investment.
Bathroom Remodeling | Commercial | Industry Knowledge
Commercial bathrooms don't change often. Most commercial property owners only remodel their bathrooms every few decades to keep up with the latest technologies and modern conveniences.