Commercial | Commercial Remodeling | General Contractors
So you're renovating your commercial building, and you need help from the right commercial contractor to get the work done. Throughout the vetting process, you'll have to make decisions about the type of contractor that you'd like to hire. It's important to find a contractor that's committed to delivering a quality work product and doing the right thing for its customers. You have your choice of large national companies or small Connecticut commercial renovation contractors. Not all contractors are created equal, so it's important to understand the benefits of hiring a local Connecticut commercial renovation company. Here's what you should know about hiring a local business that offers good service and performs quality work you can trust.

General Contractors | Residential Remodeling
Some home improvement projects are best performed by a contractor, while other home projects can be performed by the homeowner. Knowing the difference is important. If you're a homeowner who takes on projects that are more substantial or complex than you realize, you could do damage to your home, suffer an injury, or devalue your property. Home improvement projects should benefit your home and its value - and they should be done safely. The best way to ensure that your project will go smoothly and have the desired outcome is to hire a licensed CT contractor when it's necessary. Below are examples of projects that we recommend hiring a contractor to complete.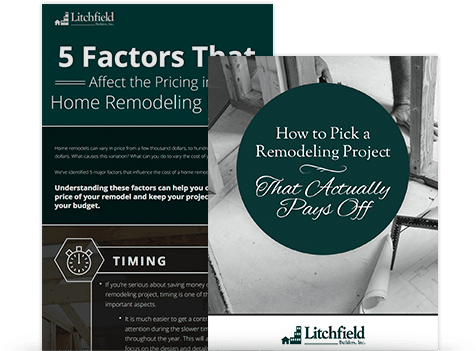 Home Remodeling Toolkit
See how you can get the best return on investment from your next home remodel by knowing exactly what to expect and how to prepare.

General Contractors | Residential Remodeling
Good contractors communicate well with their clients, so when clients ask questions, they develop a thorough understanding of the issues. Even if you're working with an expert construction contractor, it's still important to know what to ask a general contractor before and during your Connecticut home remodel. The more questions you ask, the more you'll know about your home improvement project - and the easier it becomes to make smart decisions throughout the project. Your contractor will likely communicate with you about your project in a variety of ways. Read any materials that your contractor provides to you, especially the contract. Many answers to your questions should be contained in the contract. Ideally, you should work with a contractor that offers as much information up front as possible. Litchfield Builders provides a range of reference materials for homeowners. Check out our online resource library for free downloadable information about home remodeling and how to choose a Connecticut home remodeling contractor. Read on to learn more about the best questions to ask your contractor.

Commercial | Commercial Remodeling | General Contractors
Every commercial construction project is different, but when you're working with a professional construction business with a well-established process, you can expect your project to be streamlined and well planned. This is the case when you're working with Litchfield Builders. Litchfield Builders has been in business for over 25 years, and in that time, we've created a number of processes that make each job a success. Knowing what to expect in your commercial project can help you prepare for your upcoming commercial property improvement.

General Contractors | Residential | Residential Remodeling
Just about every step of the home improvement process has its challenges, including the search for the right contractor. There are many capable residential contractors in the state of Connecticut. Vetting contractors to find the right company for your home improvement project can be time-consuming. Knowing what to consider and which qualities are most important can help you be successful in your search. Litchfield Builders publishes a free guide to hiring a residential contractor in Connecticut. You can find the publication on our website. In addition, the tips below can help you find the best contractor for your particular project. Finding the right company can help ensure that your home improvement project will be a success, so it's important to get it right.

General Contractors | Residential
Some people hire a general contractor when it's time to remodel. Some people do the work themselves. ...And still others hire subcontractors to coordinate their own remodel like a general . Which one are you? We've seen all three approaches. While there's no one right way to perform a home improvement project, there can be disadvantages to not hiring a general contractor. If you can recognize those disadvantages, you can avoid some of the common mistakes that homeowners make when they decide not to hire a general .

General Contractors | Industry Knowledge
Most construction contracts are known as fixed-price contracts, which means the contractor and the property owner have agreed on a fixed price for the work. The price only changes when change orders are signed by both parties. Although fixed-price contracts are the most common type of construction contracts, these agreements aren't appropriate for every type of construction job. The alternative is a time and materials contract.

General Contractors | Industry Knowledge
As a home or commercial property owner, you have probably gone through your fair share of construction or remodeling projects. Whether they are commercial or residential projects, you probably have a good sense of the characteristics and qualities you want out of the company you are hiring for the job.

Commercial | General Contractors | Industry Knowledge
Remodeling can be costly. From labor to materials, a typical commercial remodel can cost tens of thousands of dollars. Although the end results are worthwhile, some commercial property owners stumble on the price tag. Knowing of commercial contractor fees, those on a tight budget may even try to save money by hiring their own workers to do portions of the job, which can have unintended consequences.

General Contractors | Residential | Residential Remodeling | Industry Knowledge
Home remodeling is a huge undertaking that requires a significant investment of time and money. Whether you're renovating your home to sell or you're just building the dream home you always wanted, residential construction can be a lengthy, involved process that requires a lot of preparation. If you're hoping to take on this type of project, now is the time to get started.