Kitchen Remodeling | Residential Remodeling
For most homeowners, periodic kitchen remodels are a necessity. If you want to maintain energy efficiency while also ensuring that your kitchen is as functional and beautiful as possible, you will probably find yourself remodeling your kitchen every 15 or 20 years.
Bathroom Remodeling | Residential | Residential Remodeling
The vanity acts as the centerpiece of the bathroom. An out of date bathroom vanity can lead to problems with clutter, storage and overall functionality. If your vanity lacks proper storage space, it becomes difficult to find the things you need when you need them. If the vanity is the wrong height, using the sink can be challenging.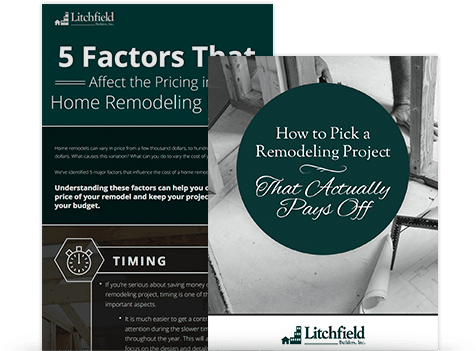 Home Remodeling Toolkit
See how you can get the best return on investment from your next home remodel by knowing exactly what to expect and how to prepare.
General Contractors | Industry Knowledge
As a home or commercial property owner, you have probably gone through your fair share of construction or remodeling projects. Whether they are commercial or residential projects, you probably have a good sense of the characteristics and qualities you want out of the company you are hiring for the job.
Kitchen Remodeling | Residential
2020 is here. Will you be remodeling your kitchen? If so, this is the perfect time to research which kitchen trends you can expect to encounter when the time comes. In recent years, materials people install in their kitchen have changed. Where once was granite, now is quartz. Where once was stainless steel, now is oil rubbed bronze. Changes like these are often for the better, and keeping up to date can help you decide what to include in your kitchen remodel. Here are the 2020 kitchen remodel trends you need to keep an eye out for.
Kitchen Remodeling | Residential
Kitchen bump outs are small additions that give you just a little more room to create the kitchen you've always wanted. Typical bump-outs are used to increase kitchen storage space, make a breakfast nook possible, or add an extra food prep area. These convenient and affordable additions are the go-to remodel if your kitchen is just barely too small to meet your remodel goals.
Many home remodels involve millwork or casework in some form or another. Although these terms are sometimes used interchangeably by homeowners, they do not mean the same thing. It's helpful to know the difference before signing a contract with a home builder or remodeler. Knowing the definitions and the circumstances under which you would want one over the other can help you plan your remodel with your contractor.
Bathroom Remodeling | Commercial | Residential
Imagine you're a homeowner with an out-of-date bathroom or a business owner with a bathroom that hasn't been remodeled in many years. Your countertops are made of stained, scratched cultured marble. Your toilets are inefficient, and you don't have the appropriate storage space or counter space for your needs. Your bathroom floors have stained grout. The caulk around fixtures needs to be replaced. If you're a homeowner, you may even have a bathroom with pink wall tiles. Your bathroom looks its age, and it's difficult to clean. It's the wrong color for the current decade, and it might even be devaluing your property. Were you to sell sometime soon, buyers might see your bathroom and cringe.
Commercial | Kitchen Remodeling | Residential
For most homeowners and commercial property owners, their satisfaction with their kitchen comes from their ability to move about efficiently, prepare meals easily, and interact with others without having accidents or difficulty. Unfortunately, too many kitchens were designed without help from a certified kitchen designer. Kitchens that are poorly designed can slow down food preparation while causing accidents and ruined meals.
Commercial | General Contractors | Industry Knowledge
Remodeling can be costly. From labor to materials, a typical commercial remodel can cost tens of thousands of dollars. Although the end results are worthwhile, some commercial property owners stumble on the price tag. Knowing of commercial contractor fees, those on a tight budget may even try to save money by hiring their own workers to do portions of the job, which can have unintended consequences.
Bathroom Remodeling | Residential | Residential Remodeling
Custom and semi-custom bathroom vanities range in cost from hundreds to thousands of dollars. These units typically include a separate countertop and faucet. Putting the separate pieces together in one integrated whole is relatively time consuming and cost-inefficient. While some homeowners with very particular bathroom vanity needs may choose to purchase customized bathroom vanities made from separate parts, there are many ways to save money on this process. Read on to find out more information about how to get the most out of your bathroom vanity and cabinetry budget.