Kitchen Remodeling | Residential | Residential Remodeling
Many homeowners dream of remodeling their kitchen. This important room is one of the most high-value spaces in the house. It's also the part of the house where children gather for snacks after school, and it's where homeowners spend time cooking and entertaining. The kitchen truly is the heart of the home. The kitchen is also a complicated room with many appliances, surfaces for food preparation, cabinets for storage, and more. This makes remodeling the kitchen a particularly complicated and costly project. One of the first things that many homeowners start to ask themselves when they consider a kitchen remodel is, how much will it cost? Knowing the factors that influence kitchen remodeling costs can help you decide whether a kitchen remodel will fit your budget at this time. You'll find that your kitchen remodeling cost is influenced by many factors including the scope of your project, the quality of the work, and thus, the Connecticut contractor that you hire.

Residential | Residential Remodeling
Improvement projects like remodels and home additions are multi-step projects that require a great deal of planning. Sometimes, a part of the planning process is the creation of a drawing or design for approval. Litchfield Builders employs in-house designers who work with homeowners and property owners to bring their projects to life. Occasionally, homeowners are surprised that the design process requires a retainer. If you're experiencing this for the first time, it helps to understand why this is necessary and how the design process benefits you. In this article, we'll go over the various steps of creating professional construction design, from start to finish, and we'll also explain the reasons for a retainer.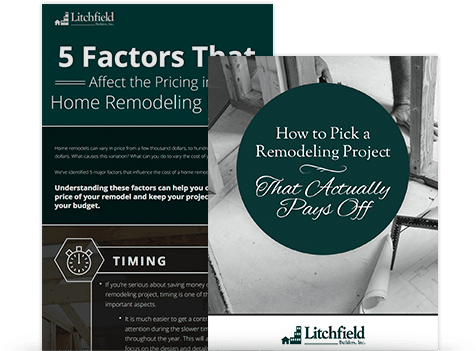 Home Remodeling Toolkit
See how you can get the best return on investment from your next home remodel by knowing exactly what to expect and how to prepare.

Residential | Residential Remodeling
A home addition can raise the value of your home and make your house a more serviceable, functional space for your family. Additions are a common home improvement project in Connecticut because of the high cost of real estate and the competitive real estate market. Sometimes, homeowners need more space but can't find a large enough home in the community where they want to live. Building an addition allows homeowners to stay in their house and enjoy a roomier, more comfortable lifestyle. When you're working with an experienced residential contractor like Litchfield Builders, you can expect a high level of customer service, excellent communication, transparent billing practices, a thorough contract, and more. Knowing what to expect during a home addition from Litchfield Builders can help you get started.

Residential | Residential Remodeling
Most homeowners and commercial property owners are aware that architects and construction companies work together on certain building projects - but not all projects. In fact, many property owners have a hard time telling when it's the right time to work with an architect and when it's enough to hire a design-build contractor. The answer is not simple. Ultimately, whether a project requires help from an architect depends on the project's level of complexity and your preferences. This article will discuss the services that an architect can provide, who benefits from the services of an architect, and how to decide when you need an architect for a home remodeling project.

Residential | Residential Remodeling
Litchfield Builders has been a leader in residential construction for over 25 years. As a family-run Connecticut business, we've distinguished ourselves from other construction companies in many ways. Working with Litchfield Builders is an experience that many clients choose to repeat across multiple home improvement/remodeling projects because we offer a level of customer service and quality that just can't be found in all construction businesses. If you're embarking on a remodeling or building project in Connecticut, working with Litchfield Builders can make your project a success. Here's what we want you to know before you get started.

Residential | Residential Remodeling
Are you happy with your deck? Is it in good condition? Does it meet your needs and the needs of others in your household? If the answer to any of these questions is no, then you could benefit from a deck remodel. Whereas a deck construction is the construction of a deck from the ground up, a deck remodel is the process of altering and rebuilding an existing deck. A deck remodel is a practical way to replace your existing deck with a deck that you'll love for years to come. Because it's a remodel, this project is generally less expensive than building a deck from scratch. For help hiring a remodeling contractor for this project, check out our free publication.

Residential | Residential Remodeling
A deck is a place where homeowners can entertain, lounge and spend time with family and loved ones. New deck construction is one of the most popular kinds of home improvements in Connecticut. Deck remodeling and construction can improve the value of your home, improve your experience as a homeowner and make your house overall a better place to live. A deck gives you a place to spend time outdoors, where you can have a party or spend a quiet weekend afternoon. If you're thinking about building a deck in CT, there's a lot to know about the deck building process and hiring the right contractor. Having this information can inform your actions moving forward and make the experience better overall. Knowing how much this project costs, how long it takes and other details can help you decide when and how to proceed with this kind of home improvement.

Residential | Residential Remodeling
The real estate market in Connecticut is tight! Unless you've got money in the bank to make a cash offer on a house, buying the house you want may be difficult or even impossible. If you need more space and buying a home isn't working, a second story addition in Connecticut may be the best option. Second story additions provide room to grow and allow you to stay in the house where you live right now. There's a lot to know before you get started on this kind of project. Second story additions are disruptive to normal life and take time to complete. When the work is done, your house will look like an all-new home. Second story additions can improve your home's value and allow your family to stay in the school district and neighborhood that you've come to love.

Residential | Residential Remodeling
An in-law apartment in Connecticut is a residence located on the premises of a larger residence, often (but not always) for the purposes of housing parents and other aging relatives. Some in-law apartments are located in the garage, above the garage, or in a separate structure. Often in-law apartments are located in the main residence of the property, sometimes in the attic, over the garage, or in a wing that is built onto the original home. In-law apartments that are built specifically for older adults are typically built on the first floor for ease of access. In-law apartments may consist of a small kitchen area and bathroom as well as a living room and bedroom, though some in-law apartments consist only of a bedroom and bathroom. The size and extent of the accommodations depend on the needs of the occupants as well as the zoning laws for the area. Litchfield Builders adds in-law apartments to homes in New Haven and the surrounding community. Our extensive experience building residential additions and safe, senior-friendly in-law apartments makes us the go-to contractor for in-law apartment construction in Connecticut.

General Contractors | Residential | Residential Remodeling
Just about every step of the home improvement process has its challenges, including the search for the right contractor. There are many capable residential contractors in the state of Connecticut. Vetting contractors to find the right company for your home improvement project can be time-consuming. Knowing what to consider and which qualities are most important can help you be successful in your search. Litchfield Builders publishes a free guide to hiring a residential contractor in Connecticut. You can find the publication on our website. In addition, the tips below can help you find the best contractor for your particular project. Finding the right company can help ensure that your home improvement project will be a success, so it's important to get it right.