Residential | Residential Remodeling
The real estate market in Connecticut is tight! Unless you've got money in the bank to make a cash offer on a house, buying the house you want may be difficult or even impossible. If you need more space and buying a home isn't working, a second story addition in Connecticut may be the best option. Second story additions provide room to grow and allow you to stay in the house where you live right now. There's a lot to know before you get started on this kind of project. Second story additions are disruptive to normal life and take time to complete. When the work is done, your house will look like an all-new home. Second story additions can improve your home's value and allow your family to stay in the school district and neighborhood that you've come to love.

Residential | Residential Remodeling
An in-law apartment in Connecticut is a residence located on the premises of a larger residence, often (but not always) for the purposes of housing parents and other aging relatives. Some in-law apartments are located in the garage, above the garage, or in a separate structure. Often in-law apartments are located in the main residence of the property, sometimes in the attic, over the garage, or in a wing that is built onto the original home. In-law apartments that are built specifically for older adults are typically built on the first floor for ease of access. In-law apartments may consist of a small kitchen area and bathroom as well as a living room and bedroom, though some in-law apartments consist only of a bedroom and bathroom. The size and extent of the accommodations depend on the needs of the occupants as well as the zoning laws for the area. Litchfield Builders adds in-law apartments to homes in New Haven and the surrounding community. Our extensive experience building residential additions and safe, senior-friendly in-law apartments makes us the go-to contractor for in-law apartment construction in Connecticut.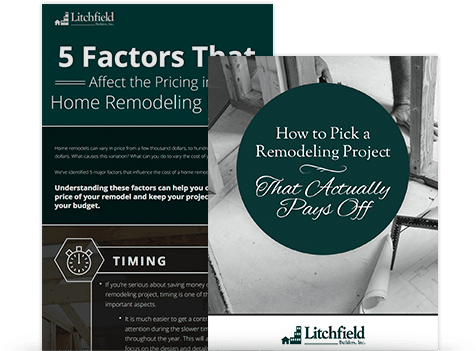 Home Remodeling Toolkit
See how you can get the best return on investment from your next home remodel by knowing exactly what to expect and how to prepare.

General Contractors | Residential | Residential Remodeling
Just about every step of the home improvement process has its challenges, including the search for the right contractor. There are many capable residential contractors in the state of Connecticut. Vetting contractors to find the right company for your home improvement project can be time-consuming. Knowing what to consider and which qualities are most important can help you be successful in your search. Litchfield Builders publishes a free guide to hiring a residential contractor in Connecticut. You can find the publication on our website. In addition, the tips below can help you find the best contractor for your particular project. Finding the right company can help ensure that your home improvement project will be a success, so it's important to get it right.

Residential | Residential Remodeling
Connecticut real estate in 2021 is competitive, and the supply of homes on the market is very small. Homeowners who need more space aren't always able to find a new home to meet their needs, so home additions are becoming more popular all the time. From bathroom additions to bedroom additions, adding another room to your home - or an entire suite of rooms - can help you live more comfortably without the frustrating experience of relocating. Knowing the home addition cost in Connecticut can help you decide whether this is a realistic option for you. While every home addition is unique and has its own set of costs, this article will give you a general idea of the cost of a standard home addition in CT. Of course, the contractor you choose will have a big impact on cost. Finding the right contractor is important. For more information, download our free guide.

Residential | Residential Remodeling
Your home is your greatest investment. Remodeling is rewarding because it deepens your investment in your property and helps ensure that you can for more money when the time comes. Remodeling can also improve your quality of life at home, by making your house more comfortable, more beautiful to behold, and a more functional place to live. For many homeowners, remodeling is better than relocating. Relocating is disruptive. A relocation can permanently change your life - and not always for the better. There are lots of reasons to consider remodeling instead of selling in Connecticut. See below, the benefits of remodeling and also remodeling projects that can improve your life at home - without the hassle of relocation.

Residential | Residential Remodeling
There's so much to think about when you're planning a remodel. Knowing your goals, making a timeline, forming a budget, finding a contractor - all of these steps are important and time-consuming. You can't cut corners when you're planning home remodeling in Connecticut. This year, planning for a remodel is even more complicated. Material shortages have impacted the process, and contractors are busier than ever. Everything from scheduling to planning can take more time. You can overcome these challenges by working with the right contractor, and by remaining flexible throughout the process.

Residential | Residential Remodeling
There are many types of home additions, but none of them can change a home quite as dramatically as a second story addition. Building a second floor onto a one-story home can change the look of a house while also doubling the home's square footage, giving the homeowner and their family valuable additional living space. Second story additions can help keep homeowners in a beloved home while providing enough room to be comfortable. If you're a homeowner who needs a larger home and more space, but you don't want to (or can't) move at this time, a second story addition may be the perfect option for you. Hiring the right contractor for this type of work is important. For more information about how you can hire a contractor with experience and skills to get the job done, download our free guide. You'll find more information about second story additions below.

Connecticut | Residential | Residential Remodeling
You love your home - but just want a little more space. Maybe you need a home office, or perhaps your family is growing and a new bedroom will allow you to stay where you are. A home addition is a practical way to make that happen. For less than you might spend buying a new house, you can make your current house your forever home. The more you know about Connecticut home additions, the better. Knowing your budget, how to hire the right contractor and what's involved in creating a home addition can help you get through the initial challenges of planning such a home upgrade.

Kitchen Remodeling | Residential Remodeling
There are many steps that must fall into place before a bathroom remodel can take place - including the making of the budget. Bathroom remodels typically involve many tasks and steps, which can add up to a significant cost. It's helpful to know what you might end up paying for your bathroom remodel. Having this information can help you decide whether a bathroom remodel is the right home improvement for your Connecticut home at this time. In this article, we've named typical costs for remodeling a bathroom in Connecticut. However, the costs incurred for your project will depend on the scope of the project, type of materials you're planning to use and more. You can get a more accurate bid for your home improvement by talking to a contractor. If the numbers in this article below sound realistic to you, talk to a contractor to get a bid and find out what you can expect to spend on your upcoming remodel.

Kitchen Remodeling | Residential Remodeling
Choosing the right type of flooring for your kitchen remodel can be a challenge. There are many options available - and all of them have good qualities. The right choice for you depends on a number of factors including your budget, your aesthetic preferences, the style of your kitchen and how much wear and tear you expect your flooring to withstand. Considering your goals for your kitchen can help you make these choices. If you're planning a kitchen remodel sometime in the near future, you'll find the process goes faster and easier if you've made some decisions ahead of time, so this is a good time to start thinking about your upcoming remodel.