Subscribe
The Best, Low Maintenance Floors to Consider
It seems like every homeowner dreams of installing low-maintenance flooring. While there are many materials that can easily be considered low-maintenance floor products, not all low-maintenance flooring materials are also attractive. In this post, we'll discuss flooring materials that look great and are easy to care for.
Vinyl Flooring
There's basically nothing more easy to maintain than vinyl flooring. It's water resistant, so spills are easy to sop up. It's also stain resistant, so you never have to worry about accidents involving oil or berries or the normal foods that stain. As a bonus, good quality vinyl flooring is often textured, which makes it easier to hide dirt and grime, so you won't have to clean it as often.
Berber Carpet
Carpet itself is not a low-maintenance product, but if you insist on installing carpet and are seeking the most low-maintenance type of carpet available, Berber is your best bet.
Berber carpet consists of a closed-loop weave, which makes it difficult for dirt and grime to fall into the depths of the carpet pile. In addition, many types of Berber tend to be so hardy that they can easily withstand cleaning procedures from tough commercially available cleaners.
Ceramic Tile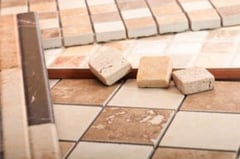 Ceramic tile has vintage character and charm that makes it perfect in kitchens, foyers, and bathrooms. It cleans easily with mild, detergent mixed in warm water. Dark or medium-toned ceramic tile will show dirt the least, so take that into account when you're installing it in a high-traffic area.
The biggest downside of ceramic tile is the grout between tiles. Grout absorbs water, dirt and all staining liquids, which means that the grout between your tiles won't take long at all to turn a dingy, dirty color. You can solve this problem by using a dark colored grout between the tiles, or by sealing the grout. Commercial sealers are available for sale at home improvement stores and hardware stores. The grout will need to be sealed every two years or when the water repellent coating rubs off and the grout starts to absorb liquid again.
Slate
Slate tile is as low-maintenance as any other type of stone tile, which is to say it's easy to clean with natural cleaners and requires little more work than regular dry mopping. Slate tiles don't show stains very easily. Slate also look natural when paired with dark-colored grout, so you won't have to worry about the grout becoming discolored over time.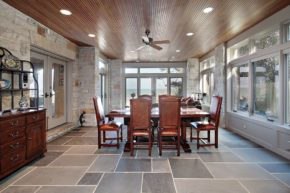 Slate is a soft stone, which makes it easy to scratch or chip, but since slate's color goes all the way through, any chips and scratches will be difficult to see. In fact, the rough-hewn look of natural slate means that chips and dents will be naturally camouflaged.
Are you looking for the perfect low maintenance floor product? Want more ideas for what to install in your home? Contact Litchfield Builders. With over 25 years of experience in the industry, we know how to help.