Subscribe
Featured Commercial Construction Project: Local School in New Haven, CT
When it comes to a commercial remodel, there are a lot of factors that come into play. At Litchfield Builders, we like to help you get answers early on so you know what to expect going into any new construction or renovation project for your organization. To help, we put together this article breaking down a very successful new construction project for a local school through a Q&A with Litchfield's President, Kevin Ahern.
---
Let us help you turn your construction plans into reality. Check out some of our latest commercial projects.
---
What type of commercial remodeling project was this?
This was a new commercial construction project for Cold Spring School in New Haven, CT to build a new community center for the students.


What was your client's goal for this project?
This building is a part of a long-term master plan for the school that included several property acquisitions and construction projects over a 10 year period.
It was designed by Turner Brooks Architects to work for multiple functions including all school meetings and events, drama, dance, musical performance, and athletic activities such as basketball, volleyball, and climbing.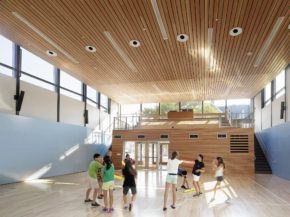 Photo by Christopher Gardner
Did you hit any roadblocks or project delays? How did you overcome them?

Although the general design was complete at the start of the project, the materials/product selection, and detail designs were not. We worked closely with the architect to maintain the intent of his design while maintaining the budget and timeline for the project.
What was your favorite part of this project?
Seeing this project evolve from the planning stages through the approval and eventual construction was a very interesting journey to be a part of. When all was said and done, it was amazing to watch the school in a group meeting at 8 a.m., children scaling the new rock climbing wall during gym class at noon and a theater production at the end of the day.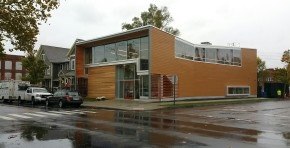 Was the client happy with the final product? Do you have anything planned for them in the future?
The client was extremely happy with the final product and the multifunctional use of the building has worked out incredibly well for the school community.
We initially won the renovation of the school's first property acquisition in 2005, turning a 2 family home into a much needed Art Classroom Space. In 2008, the school purchased an adjacent 2 family and we worked again with Turner Brooks to combine the buildings creating a building with four classrooms that included an elevator and blended into the neighborhood extremely well.
In 2013, Cold Spring hired us to construct the Community Building, which was completed in 2014. Recently, we were brought on to renovate an existing space to create a cutting edge science, technology, engineering and mathematics (STEM) space referred to as the Tinkering Lab.
Litchfield Builders, Inc., is a self-performing general contractor providing a high level of service and overall value in demanding circumstances and environments for our customers. Check out more of our commercial construction projects for ideas and to see the quality of our work.